Roberly Felicio's (cover image) victory in the COLOSSUS – $565 No-Limit Hold'em at the 2018 World Series of Poker (WSOP) for $1,000,000 came after playing 243 hands on Day 4. Competing against 13,070 entrants that created a massive prize pool of $6,535,000, Felicio fought long and hard to win his fifth gold WSOP bracelet.
The Brazilian, who has total live earnings of $1,095,738, was happy about his win and said, "I'm very happy, it was a tough final table with tough opponents. Heads-up was very emotional. But I'm very excited to take home my first bracelet, I still can't believe it."
Even though the event had been tough throughout, Team India's Paawan Bansal put up a solid performance but narrowly missed the final table when he unluckily got eliminated in 13th place for $35,087. A prominent presence in the domestic and Asian circuits, this was Bansal's second appearance at WSOP. Last year he had made the deepest run from among the Indian challengers present in the $10,000 No Limit Hold'em – Main Event Championship and placed 124th for $53,247. With a deep run early on at the series, he is looking is good form for another successful Vegas outing this year as well!
The 10-time WSOP bracelet winner Phil Ivey also made a comeback to WSOP this year. With his last appearance at the series dating to the $10,000 World Championship – No Limit Hold'em (Event #65) in 2014, Ivey returned to the series after a hiatus of 4 years. He was busted in the 533rd place for $2,048.
John Racener made it to the final table after he eliminated Matt Silva in 10th place for $44,743.
Final Table Recap
The nine-handed final table started with Sang Liu leading the chip counts with 18,205,000, followed by Scott Margereson with 13,855,000 and Joel Wurtzel with 8,375,000. The other players included Timothy Miles, Steven Jones, Gunther Dumsky, Roberly Felicio and Song Choe.
Steven Jones was the first of the nine to go when he went all-in from the hijack with . Song Choe called with . The flop ran giving Choe a two pair and Jones a pair of deuces. When the turn and river didn't help Jones, he was sent packing by Choe in ninth place.
On the 20th hand, Cheo raised from under the gun with pocket sevens, John Racener shoved all-in with . With the board running , Racener's hunt for a second WSOP bracelet came crashing down at eighth place.
Gunther Dumsky exited on the very next hand when he raised from early position against Choe with pocket eights. But he was sent to the rails in the seventh place, when Choe's clipped top pair on the rundown .
Song Choe was the next to go. He raised from the button against Timothy Miles who countered by going all-in from big blind. Choe decided to call but sadly his couldn't match up to Miles' , with the board running sending Choe home at sixth place.
Timothy Miles was ousted for the fifth place when he went all-in from cutoff against Sang Liu. The former`s pocket jacks couldn't hold up against Liu's after the community cards gave the latter a stronger two pair.
Scott Margereson was eliminated in fourth place by Roberly Felicio after he went all-in with but came up short against the latter`s .
Joel Wurtzel was quick to follow Margereson in third place. With the showdown revealing a board of , Sang Liu made his back-door flush draw with , busting Wurtzel's .
On the last hand of the heads-up match between Roberly Felicio and Sang Liu, both players revealed their cards after Felicio snap-called when Liu went all-in. Felicio was able to trump Liu's with his with the board not helping either player.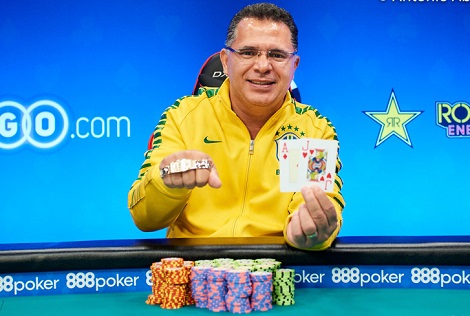 Final Table Results (USD)
1. Roberly Felicio – $1,000,000
2. Sang Liu – $500,000
3. Joel Wurtzel – $300,000
4. Scott Margereson – $220,040
5. Timothy Miles – $166,091
6. Song Choe – $126,158
7. Gunther Dumsky – $96,431
8. John Racener – $74,178
9. Steven Jones – $57,425
Content and Image courtesy WSOP.com
Keep following the latest updates from WSOP 2018 right here on PokerGuru!
Related Articles:
1. WSOP 2018: Daniel Ospina Picks Up 1st Bracelet For Columbia By Winning $1,500 No Limit 2-7 Lowball Draw
2. WSOP 2018: Jeremy Harkin Wins $1,500 Dealer's Choice For $129,882
3. WSOP 2018: Aditya Agarwal Finishes 77th in Big Blind Antes $1,500 NLHE Event For ₹2.35 Lakhs